A lot of people have said that they love my work but that it is too expensive to buy! Soooo… I decided to get some limited edition prints done. Well that's not cheap to do, as I discovered. However, I have now had some done (at huge expense…), and am considering doing others too.
Here are the first two that are available as large prints: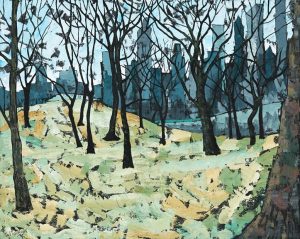 Central Park
74 x 58 cm (approximate)
Central Park was painted from a photo I took in New York in winter last year, just after I met the actor and superstar Ewan McGregor (yes really!). The ground in the park was all frosty and crunchy underfoot.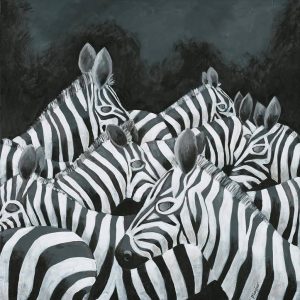 Dazzle
58 x 58 cm (approximate)
This is the 5th time I have done a bunch of zebras (collectively known as a 'dazzle') but the first time I have done one in acrylic. Painting the stripes can make you go mad after a while…
The quality of the 'giclée' printing is very high, and on high quality paper. You can hardly tell the difference between the print and the origina
I am selling these for £200 each, unframed in a tube (plus post). Or they are £300 framed (plus post and packaging). For a limited time only, if you buy two prints, I'll give you the second one for half price!
If anyone is interested, or wants more information, please email me at rosie@playfairart.com or message me on my Facebook page.
I can have prints made of most of my work, so if there is a piece on my website that you like that is already sold, then please get in touch. The smaller ones will be comparatively cheaper.
Thanks
Rosie